Custom LED Aluminum Profiles for Tailored Recessed Lighting Applications
LED aluminum profiles are the perfect addition to any space looking to add a modern, stylish touch with recessed lighting. Their sleek design and customizability make them ideal for both commercial and residential spaces, allowing you to tailor your lighting applications just the way you like it. Not only do they provide a beautiful accent piece in any room, but their energy efficiency benefits will also help reduce overhead costs on electricity bills each month. Keep reading as we explore why LED aluminum profiles can be an excellent choice for achieving stunningly unique results when used in recessed lighting applications!

Versatile Applications: Customizing LED Aluminum Profiles for Residential Lighting Projects
Transforming your home with LED lighting has never been easier or more customizable! With versatile applications, LED aluminum profiles can be easily customized to fit the specific needs of your residential lighting project. Whether you want to highlight a unique architectural feature or create a cozy and inviting atmosphere in your living room, LED aluminum profiles can be molded to fit any design vision. With the ability to control the brightness and color of the lights, you can create the ambiance that perfectly suits your home. Plus, LED lighting is energy-efficient, which means you can save money on your electricity bills while enjoying a beautiful and personalized lighting setup. Take the first step in transforming your home today with LED aluminum profiles for your residential lighting project!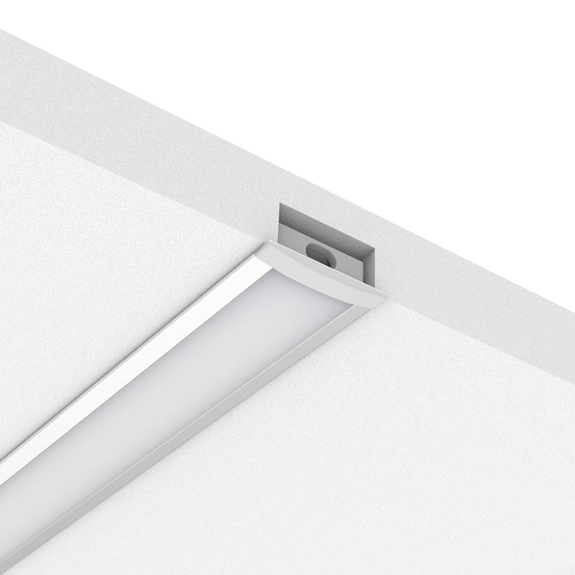 Commercial Lighting Solutions: Meeting the Demands of Retail and Hospitality Spaces with Custom Aluminum Profiles
When it comes to retail and hospitality spaces, creating the perfect atmosphere is critical for satisfying customers and keeping them coming back. Commercial lighting solutions are essential for achieving this objective, and custom aluminum profiles offer the ideal solution for meeting the demands of these spaces. With customizable options available, business owners can ensure that their lighting complements their overall aesthetic while also providing functionality. Furthermore, these profiles enable business owners to incorporate LED technology to save on energy costs and provide a longer lifespan for their lighting solutions. Ultimately, investing in quality, custom aluminum profiles may be the key to enhancing the overall customer experience in retail and hospitality settings.

Architectural Flexibility: Tailoring LED Aluminum Profiles for Unique Design Concepts and Structures
When it comes to architectural design, one size definitely does not fit all. Every building has its own unique characteristics and personality, and it's important that the lighting design reflects that. This is where LED aluminum profiles come into play. These versatile fixtures allow designers to tailor the lighting to perfectly complement the building's design, no matter how unconventional it may be. Whether it's curves, angles, or even irregular shapes, LED aluminum profiles can be custom-fitted to meet any design challenge. This flexibility not only ensures that the lighting is aesthetically pleasing, but it also allows for more efficient and effective lighting solutions, making LED aluminum profiles an ideal choice for any forward-thinking designer.

In conclusion, LED aluminum profiles are the perfect solution for various residential, commercial and architectural lighting needs. While residential lighting projects often require customizable illumination solutions that meet unique requirements, commercial spaces such as retail stores and hospitality venues require reliable lighting supplies which can fulfill their specific demands. Additionally, architects have long sought flexible solutions to provide their customers with innovative designs without compromising on performance or structure. LED aluminum profiles can turn any space into a piece of art, while bringing additional light effects and allowing individual customization in architectural settings. They are truly a trendsetter in the world of modern lighting.